Executing any road marking project requires careful planning and budgeting.
It also requires hiring capable contractors able to direct the execution of your project with technical expertise and precision.
So how do you hire the right road marking contractor for the job at hand? Let's look at some essential job criteria your prospective road marking contractor should possess.
EXPERIENCE
A road marking contractor's year in the industry will give you a good understanding about their experience and skills when it comes to road markings. Generally it is good practice to hire contractors who are more than 10 years in the industry, this will guarantee the right skills and resources to tackle any task given to them.
With years of experience in the industry your contractor must have the knowledge to handle any job whether it be on highways, expressways, major roads, parking lots, bike lanes or even residential spaces. They should have mastered the correct placement of lanes, boarders and other markings to ensure all the lines are straight and precise.
With their experience they should be able to finish the job quickly without sacrificing quality of work to exceed client's expectations.
TRACK RECORD
Do not be afraid to ask your contractor to provide you with pictures of their previous works and clients, these pictures will reflect their expertise and care when it comes to their work. This will also give you an idea on what the actual outcome of their work will be once hired.
Additionally, if you know any of the companies your road marking contractor has worked for, do not hesitate to contact them and ask for feedback because from their feedback you can get details such as cost, ethics of work, quality, speed of work and any other necessary details.
WORKMANSHIP
There are two important questions you must ask your contractor regarding workmanship.

The first question is "what is the condition of the equipment?", The condition of the equipment is one of the key components that determine the quality of lines the machine is able to melt and extrude on the road. Poorly maintained kneading machine may result to undercooking or overcooking of the thermoplastic material while poorly maintained applicator machine and its shoes may create lines that are not straight with edges that are not sharp.
The second question that must be asked is "are the lane marking crew regular or contractual hires?" this is important to know because it will determine the behavior by which the lane marking crew will approach the project. When the people are contractual hires, they have a tendency to rush work since the manner by which their labor wages is paid depends on the output they are able to deliver. Contractual employees are focused on finishing the project as soon as possible which most of the time sacrifices the workmanship quality. When the crew are regular hires, the contractor is able to provide job security for the crew which allows for quality of work to be a more important priority.
PAINT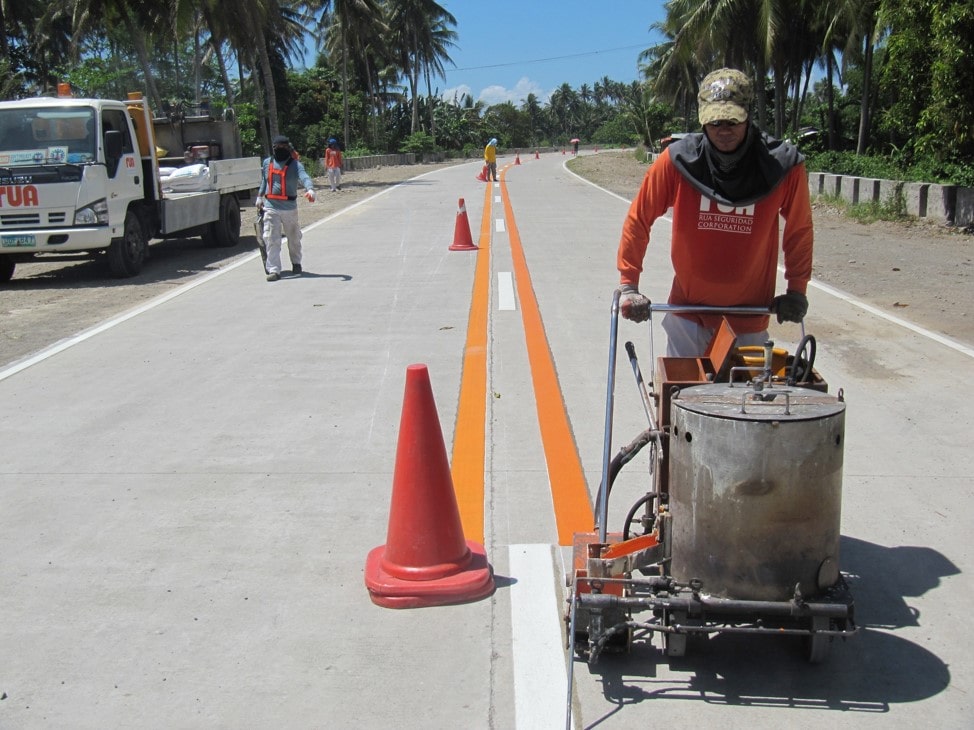 It is important to know what kind of paint your road contractor will use for the project. Ask for the brand of Thermoplastic Road Paint your contractor will use and do your research.
First you must check if the brand imports or locally manufactures their paint, it is better to choose a local manufacturer because their paint is designed for our local climate and has gone through local field testing to ensure quality. Furthermore local manufacturers are also very accessible to assist you immediately in the event that a problem arises during product application.
COST
Cost is an important decision making factor – but it is not the only one you must take into consideration.
You must also consider the benefits of delivering quality work, this elevates your company's brand and reputation including the nobility of providing safer roads to the motorists
Ultimately your goal is to hire a contractor who can provide you with Worry-Free and Hassle-Free Services at a competitive price. It may be quite hard to find but there are still a few contractors in the Philippines that can provide you with these products and services that are affordable and will not cut corners when it comes to quality of work.