Cold Patch Asphalt Repair: A Ready Road Repair Fix
Aggregates and Bitumen:
The Perfect Recipe for an Asphalt Road Patch
In an effort to prevent contribution to Global Warming, Rua Seguridad has developed sustainable products, such as the cold mix asphalt patch, which are being implemented in the Road & Highway Industry.
One such development is our specially formulated Cold Mix Asphalt Technology (CMA) – a form of cold mix bitumen. CMA is designed to be ready for use, and as a cold applied bitumen, it requires minimal resources to apply on roads compared to conventional asphalt, which requires cooking machines and compactors which contribute to greenhouse emissions. It is a convenient solution for fast and efficient pothole repair and asphalt road repair.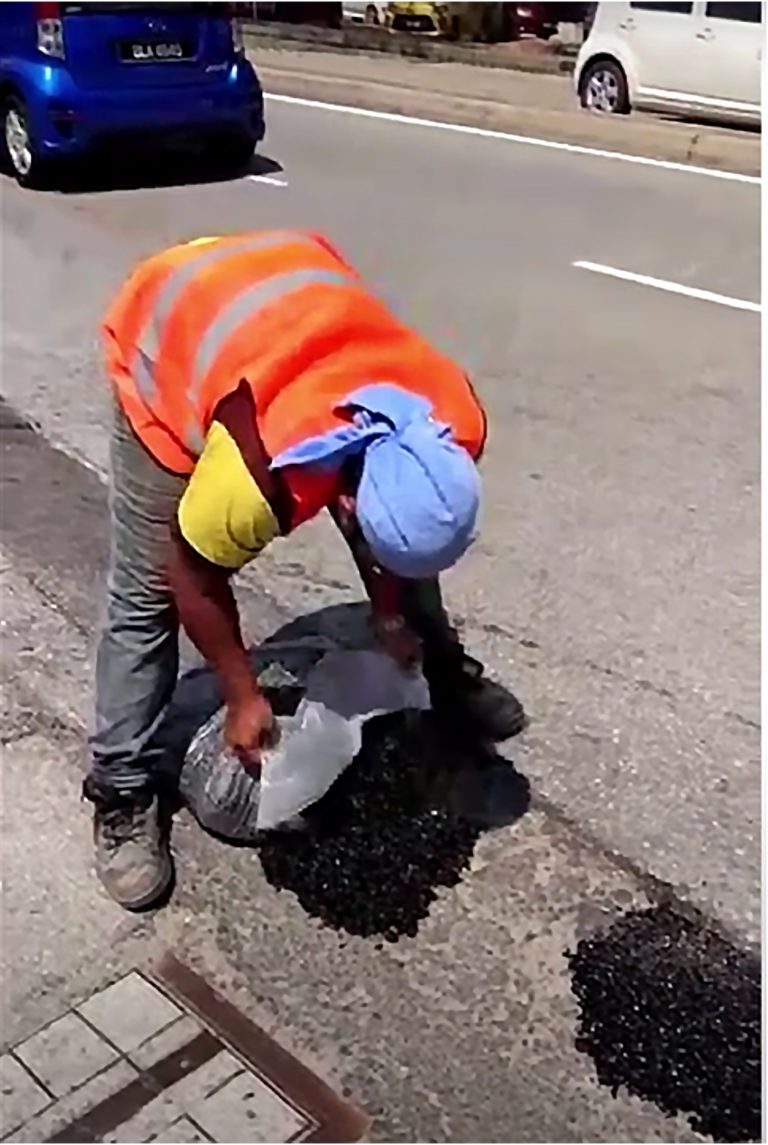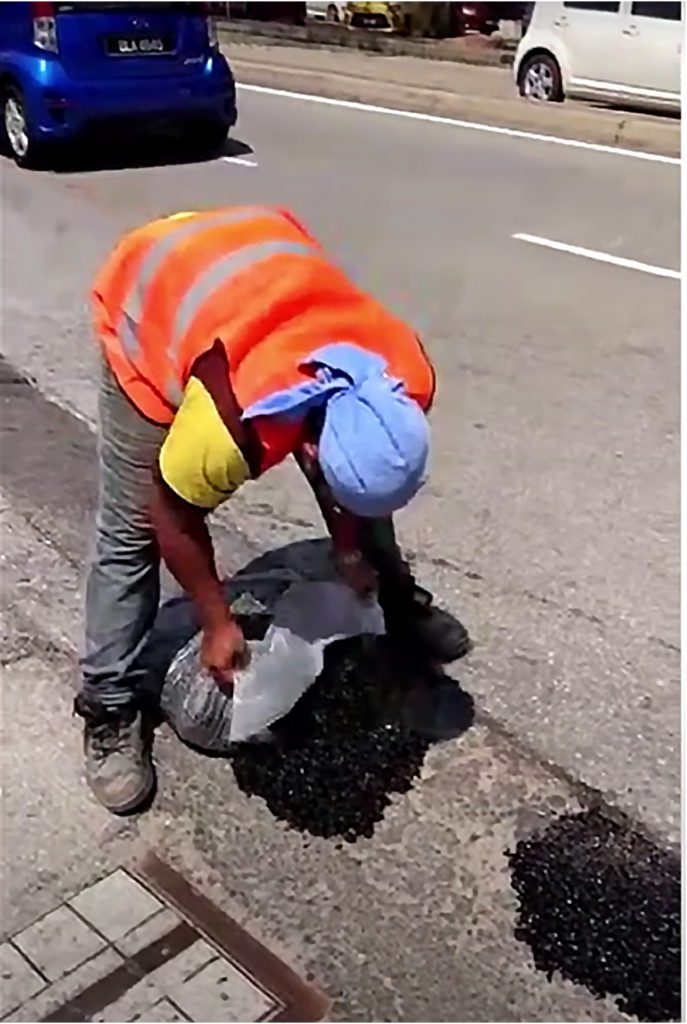 For instant road repair, our special blend of Cold Mix Asphalts can be used for temporary or even permanent solutions for road damage and potential safety hazards to motorists. Our Cold Mix Asphalt can be used for road patch repair jobs both big and small, roadside or highway cracks, and other types of damage.
Cold Mix Asphalt aims to reduce manpower cost and time because it does not require cooking, mixing, heating, or even special tools compared to traditional asphalt laying methods. With our Cold Patch Asphalt, all you need is one man, a shovel, and 10mins to permanently repair potholes in your area.
Advantages of using RUA Cold Mix Asphalt:
Cold Patch Asphalt is a material often utilized by professionals in the road construction industry. This component is used for the cold patch repair of different kinds of damages on roads, such as potholes and cracks.
Although hot mix asphalt can also be used to repair roads, contractors and other professionals prefer Cold Applied Bitumen because of the various advantages it offers. Here are some of the benefits you can experience once you switch to Rua's Cold Patch Asphalt:
Permanent repairs of potholes in roads and car parks
Permanent repairs on heavily trafficked, high-risk roads
Can be used in all weathers, climates & temperatures
No waste, any leftover product can be kept in the packaging
Coverage: Approx 1m2 at 12-15mm thickness
Open to traffic instantly
"Rua Cold Mix Asphalt ensures potholes are fixed in just minutes
COLD: PAVINGPATCHING/POTHOLE APPLICATION PR - PERMANENT REPAIR
No Pre-Heating and
special equipment required

Reduces overall equipment
& manpower cost

Binds to any type of road

Can be used during
any weather condition

Opens to Traffic Immediately

Finish projects quicker / Quicker
Turnaround Time

Excess material can be
kept in the container

Excess can be used for other
future road repairs
Looking for thermoplastic paint for your road project?